actualizagjgj
updated in
november 2005
Photos
Guests' book
Recommended by
Links
WELCOME TO HUMBOLT SHELTER

After 17 years of journeys and adventures around South America,
Jesús López de Dicastillo,
decided to settle
in Puerto Bermúdez, just a
little piece of paradise on the
border of Pachitea river.
He and the young bask
Raul Rubio, cleaned
a rain-forest parcel
and built with their own
hands an idyllic hut,
the Humboldt Shelter.

continue


Single, double and triple rooms
Sleeping in hammocks and tents is possible

Electricity 24h/24
Peruvian and spanish cuisine
Going to Puerto Bermúdez
15 hours of intense adventure through an exotic road


Few paths offer such a rich landscape as the road that comes to Puerto Bermúdez.
The grey desert on the coast, the magnificent green Pachitea forest , are some amazing exemples of the geographical diversity of this way.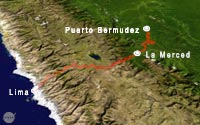 Lima -La Merced 8h
La Merced -
Puerto Bermúdez 7h


more info